This post contains affiliate links.
It literally has been one headset after another getting reviewed over the past few months at DragonBlogger.com where I personally have had to review 6 headsets in 4 weeks while my staff reviews some other headsets.  This one being finally showcased today is the Honstek G6 Gaming headset which is a 3.5mm Stereo headset that is compatible with PC, PS4, Xbox One or mobile devices via the 3.5mm headset jack.  Now the only thing to note here is the headset is a split green/pink 3.5mm headset and you will need a 3.5mm Y joiner to combine to a singe audio jack if you want to use it in your console or phone.  Honstek did not include that adapter in the headset but they claim if you order the product they will send you that adapter for free.
The box may have showed it was a green headset, but it comes in several different colors and the one I had in the box was kind of a copper/bronze color not green like the picture on the box.  Also I think the could have done a better job with spell checking their packaging, as noted in the image below.  Regardless of how decent the quality is of a product, if you are first introduced to the product with spelling errors and typo's it hurts professionalism for a brand and gives a bad impression.
But I won't tease the brand too much for the typo, because this headset actually sounds pretty great and is very comfortable.  Let's kick off with my unboxing of the Honstek G6 Gaming Headset.
Here are the specs of the Honstek G6
Speaker:

Driver: Φ50mm

Sensitivity: 100±3dB

Impedance: 32Ω±15%

Frequency Response: 20-20KHZ

Cord Length: 2.2m±5%

Microphone:

Mic Dimension: 6.0×2.7mm

Sensitivity: -42±3dB

Frequency Response: 100-10KHZ

Plug Type:Φ3.5mm
For me 50mm drivers do make a difference in volume compared to 40mm drivers for me and I found these to sound better than most Kotion Each or Sades headsets and it is in the same price range at just under $30.  What makes this headset a bit different than your standard headset with a side USB light is that the vibration function which kicks in when you are listening to bass heavy music or when gaming deep bass sound is played makes a bit of a difference in providing ambience.  Most headsets have a switch for vibration on and off, but the Honstek G6 gives you a dial allowing you to adjust the amount of vibration which is a decent benefit and you can get more vibration than some headsets I have tested.
The headset is also extremely durable, the inner headband has all the elasticity to adjust to virtually any head size and the outer frame is sturdy and doesn't have any apparent weak points.  There are no weak joints or cheap plastic area's that would appear to break if you expand or stretch the headset.  The ear cups are large and fit fairly well though don't have pivots that allow them to tilt up and down which would be a nice bonus feature.
Here is the Video Review of the Honstek G6 Gaming Headset
Finally we talk about the last aspect of the headset and this is the microphone which is very decent sounding, but among the best features is that the mic is not only flexible, but it can retract into the headset when not in use so as to protect it from snagging on something.  I gave this headset to my son after my review and he loves these more than any other headset he has used, he gave up his Kotion Each G2000 and his Sades headset for this one.  Below he has the mic retracted while he watches a show on Netflix.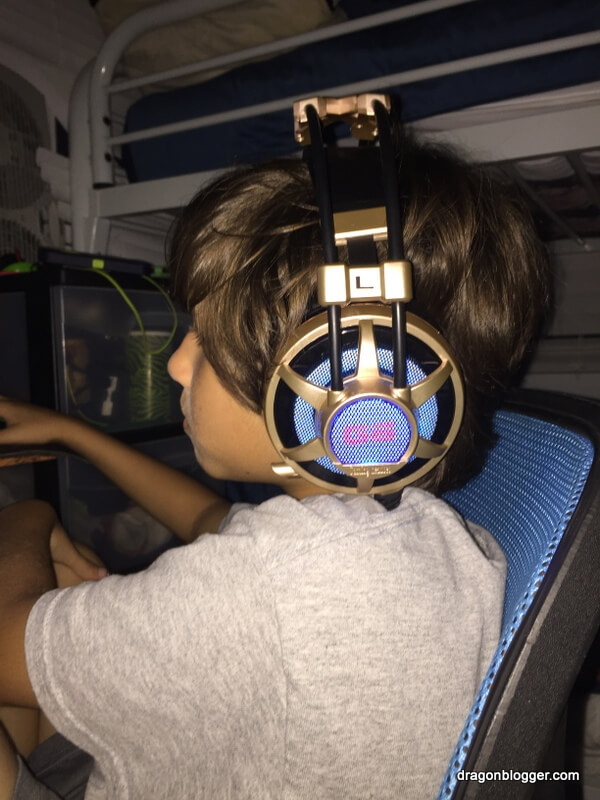 So for a quick mic test, I used this headset on the PS4 for a live stream as well and you can watch and listen to that here.  When I played No Man's Sky for the two weeks when it came out.
Overall I would give this headset 4.5 stars but because they don't include the adapter by default and you have to make the extra request I deducted half a star, but if you were looking for a headset and something a bit higher quality than the Kotion Each and cheap plastic headband headsets, then the Honstek G6 really is a very decent 3.5mm audio headset and at a price that is nearly 1/2 that of the Arctic P533 it doesn't quite have as good audio but for the price it is definitely worth considering if you are on a budget.  Also just so you know the USB plug is what powers the vibration function and light of the headset, you can use it with 3.5mm only like in a PS4 controller but you won't get light or vibration if you don't have USB plugged in.